When Bryan Foods announced their decision to close the state's only slaughter plant, Prestage Farms in Mississippi changed the structure of their existing operation. Part of the complex was converted to breeding stock production to supply gilts to other company farms. In addition, Prestage launched a unique plan in 2012 to convert some of the existing finishing sites to breeding, gestation and farrowing.
Russ Goss, Production Manager along with Todd Griffin, the operation's Maintenance Manager gave us the details of the conversion.
The original finishing sites consist of eight, 40' x 176'8" buildings designed  to hold 880 head of market hogs.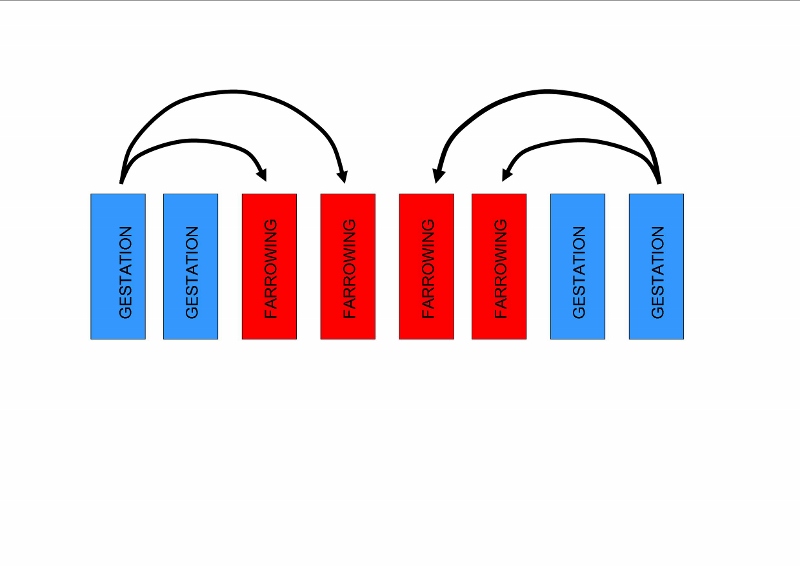 First part of the plan consisted of creating a dedicated breeding site at one former finishing site. One of the buildings was left unchanged and used as an isolation unit, with only the original 30″ penning swapped out for 40″ high gestation gates.  The other seven buildings were switched over to breeding with each holding 336 stalls. The sows remain in the stalls for 42 days after breeding. After preg-checking, the sows are trucked to one of the converted gestation/farrowing sites. The gestation and farrowing sites were retrofitted using four of the buildings as farrowing and four as gestation. Each gestation barn is sized to fill two of the farrowing buildings.
The gestation floor plan lays out 20) 15'10" wide x 18'6" deep pens with 24) gestation stalls located on one end. . Each pen is designed to hold 14 sows allowing for 21 square foot per animal. Each pen has five feeding stanchions located along the center alley and ten on the outside wall.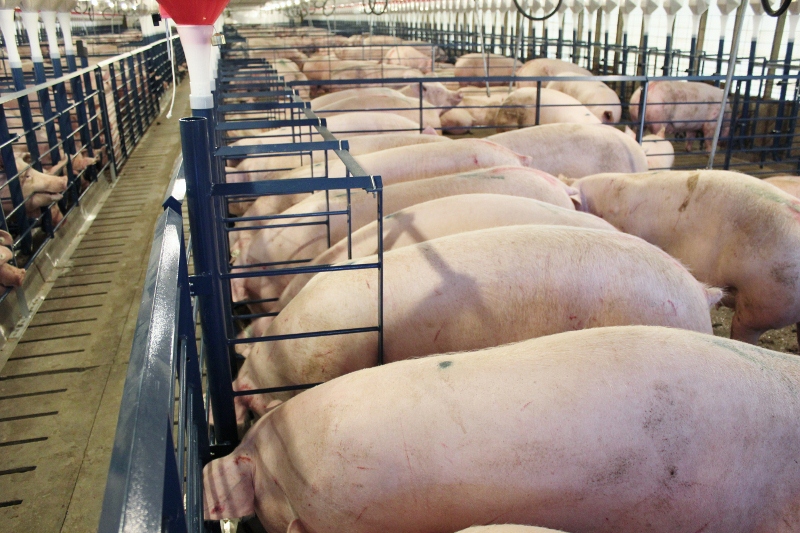 Adjustable feed drops drop the rations into the stainless steel trough below.
When we asked Russ about the decision to go with pen system versus stalls, he explained, "We feel stanchions are the best choice for group housing compared to the ESF options that we looked at. We think stanchions are easier for our staff to manage and there is less equipment to maintain and repair."
Russ commented, "The sows adapt to the stanchions fairly well. There's some fighting the first day we put them together, but they settle down after that. Without a doubt group housing requires a higher level of stockmanship from our people, but the farm staff has learned to manage the system without a lot of trouble."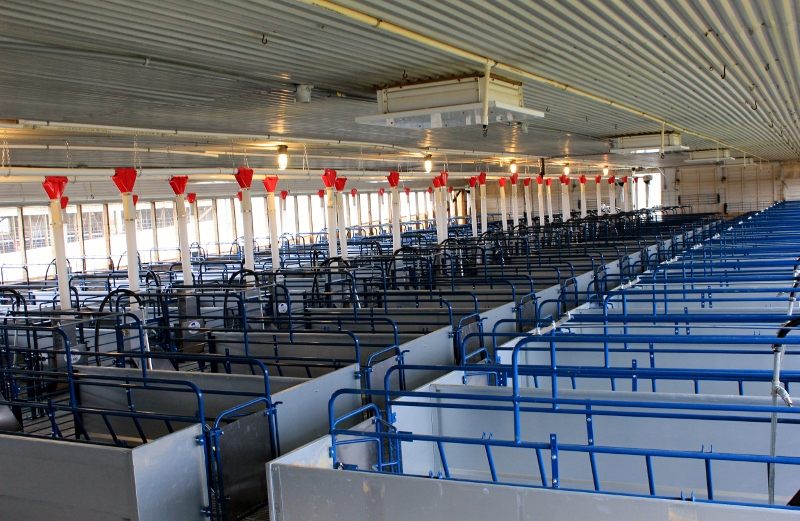 Crews removed the old slats and equipment, after opening up a section of the end wall. Supported by the existing slat walls, trussed TriDek flooring spans the entire building with traction brakes located in the center of the crate providing the sows with better footing. Four rows of 33 farrowing crates were installed on the flooring for a total capacity of 132.
Prestage selected a 5'x 7' Advantage finger style crate with stainless steel rear door panels and SowMAX dispensers above the feeders. Four feed lines run the length of the building to fill the dispensers.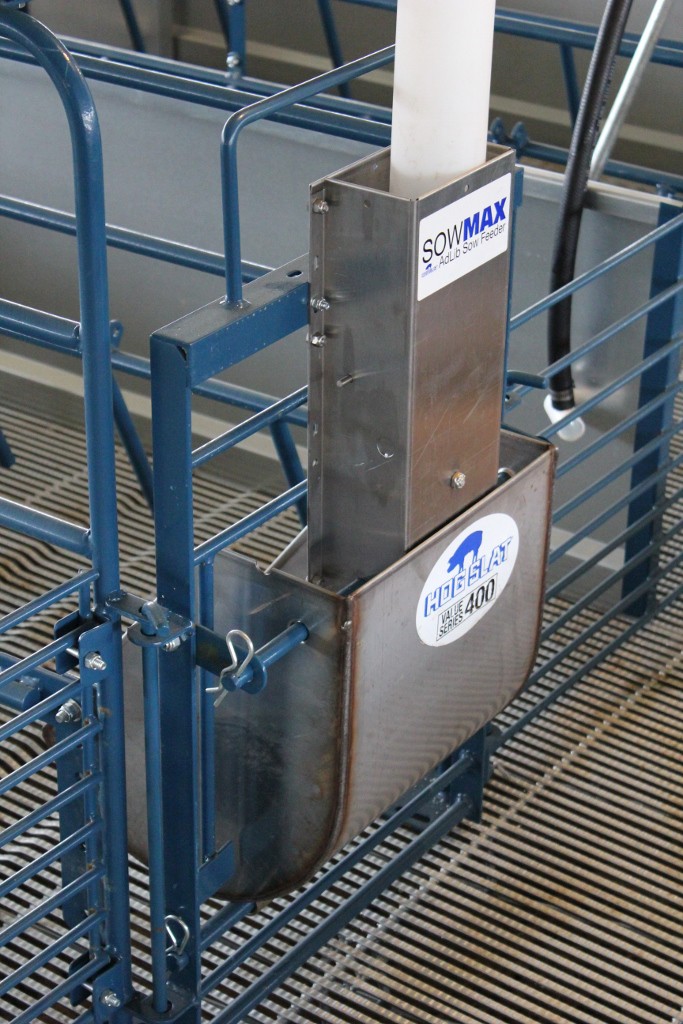 Russ explained Prestage's previous experience with SowMAX, "We just do a better job feeding sows in lactation with the SowMAX. It eliminates any guess work; we just fill the hoppers twice a day and the sows eat to appetite. They can eat at night during hot weather, and we know they are getting all the feed they want even on the weekends."
He continued "Improved sow body condition is one of the biggest benefits we get from using SowMAX. Almost all of our sows will score a two or three coming out of the crates"
Comments (0)