Totally slatted concrete flooring used in group sow housing.
With the majority of U.S. pigs finished in confinement style facilities, a 12-pound weaned pig will spend at least four months on slatted concrete floors. As the industry moves from gestation stalls to group housing designs, slat quality becomes an important factor. Rather than being confined to a small slatted area, sow movement over an entire slatted pen subjects them potential injury from defective flooring design.
Good concrete slat design, construction, and maintenance can minimize foot and leg problems associated with swine production.
The most critical feature in slat design is producing slats with a flat top surface. Slats with uneven and inconsistent surface place additional stress on pig's feet and joints.
Many methods used for producing concrete slats consist of placing wet cast concrete into multiple steel forms and hand troweling to finish. It is harder to build slats with a consistently flat surface by hand finishing methods.
Machined slats are produced with a different process that eliminates the uneven surface found on hand cast slats. Automated Rotoscreeds "strike off" the mold creating a level, uniformly flat top that is easier for pigs to move across.
Slat longevity is an important consideration as worn or damaged areas create uneven surfaces that can injure pigs. Slats built using concrete with a low water-to-cement ratio are longer lasting and more resistant to wear.
The water-cement ratio refers to the ratio of the water weight to the cement weight used in a concrete mix. A lower ratio leads to higher strength and durability but makes the mix difficult to work with and form. For this reason, most slats are produced with wet cast concrete using a water-cement ratio of 0.5. Machined slats are manufactured from dry cast concrete with a water-cement ratio of less than .39.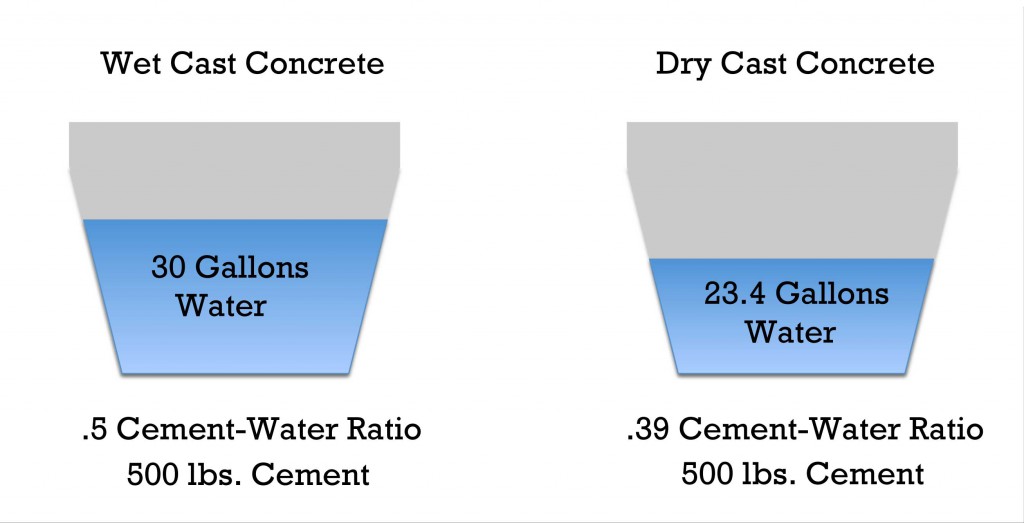 A cubic yard of wet cast concrete formulated with 500 pounds of cement contains 250 pounds of water, while a dry cast mix only contains 195 pounds. As the excess water leaves during the curing process, it creates microscopic pores that reduce the final strength of a slat. Compromised slat strength can lead to many problems down the road, including expensive repairs, equipment damage and injury to pigs and farm personnel.
Wet cast slats by feeder showing exposed aggregate damage and repaired surface with Vanberg Specialized Coatings.
Maintaining surfaces and edges of slats, as they wear over time, is essential in providing pigs with a comfortable flooring surface. Areas around waterers and feeders are the first to show significant damage. When the need arises for concrete slat repair, choose a repair mortar designed for slat repair versus generic concrete repair products. Mortars designed for slat repairs feature cement and epoxy formulations with higher cure strengths and faster cure times. The amount of damage will determine the type of repair product needed. For simple repairs, less than 1/4″ in depth, a cost effective cement mortar can be used. More severe corrosion requires the use of epoxy mortars to hold the repair patch in place. Hog Slat offers a complete range of concrete repair products from Vanberg Specialized Coatings that can be used to repair worn and damaged slats with minimal downtime. For more information on slat repairs see the DIY video at http://www.hogslat.com/con-korite-xtra-mortar-kit.
Choosing concrete slats with a level surface and uniform openings provide growing pigs and group housed sows with secure footing to minimize foot and joint injuries.
To learn more about Hog Slat's machine produced slats go to http://www.hogslat.com/concrete-slats.
Comments (0)