We've got chickens!
This spring we added a few new items to our FARMSTEAD Equipment product selection that have been very popular with our customers who raise small groups of chickens and other poultry. We always strive to provide the highest quality products for our customers and decided we would purchase and raise a small flock of broiler chickens to show everyone first hand how well the equipment we sell works.
So, we headed to the local farm supply store and picked up a dozen broiler chicks. We lucked out and ended up with a baker's dozen, 13 birds in all. Until the chickens have feathered out and can move outside, we're brooding them indoors. Chicks need a supplemental source of heat until they begin to grow feathers. Generally, the birds need to be kept at around 90°-95°F for the first week of life.
Our "brooder" is made from a small children's swimming pool, which can usually be purchased for around $10 from your local big box store. The inside is lined with clean pine shavings and we put the chicken feeder on the floor to start out so the birds are easily able to locate their feed.
Many people use a heat lamp and heat bulb to provide the supplemental heat their birds need during their first few weeks of life. Using a heat lamp and bulb works very well, but for this flock we are using one of the new products we offer, the Comfort Heating Plate for Chicks, which you can see in the left side of the photo above. The great part about the Comfort Heating Plate is that it only draws 22 watts compared to the much higher wattage, 100-250 watt, that a conventional heat lamp uses. In addition to the energy savings you'll realize, the Comfort Heating Plate substantially decreases the chances of an accidental fire that can occur when using a heat lamp.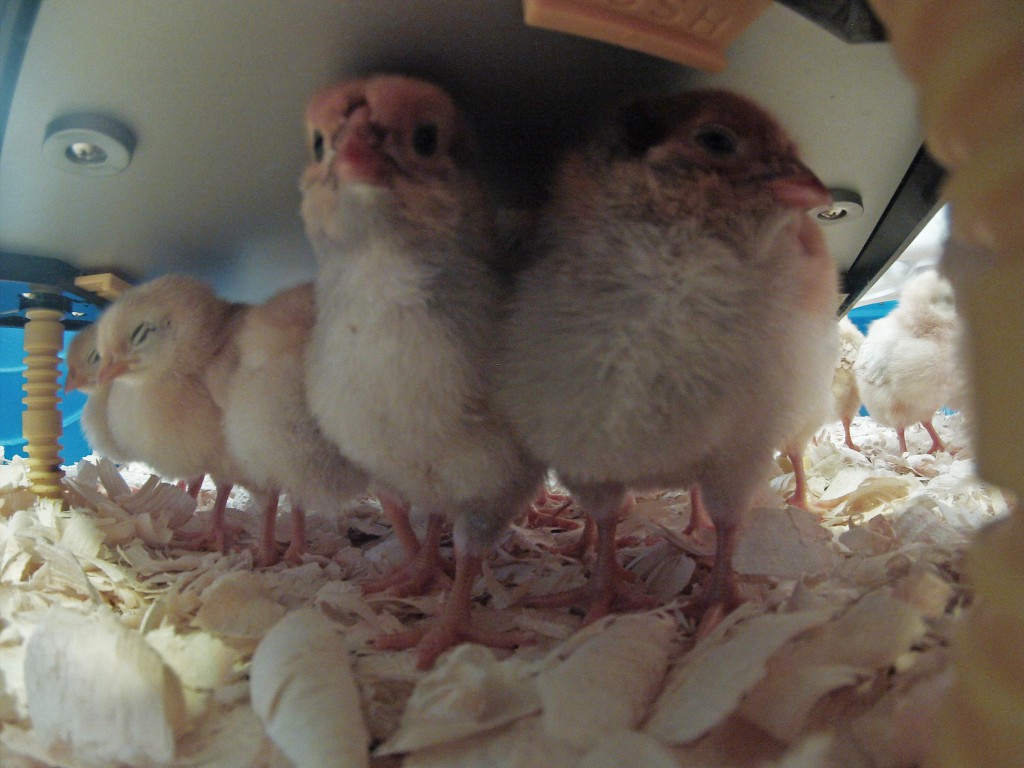 In addition to the energy saving and safety benefits the Comfort Heating Plate provides, the chicks absolutely love it! 
That is because the heating plate is designed to mimic mother nature. When a hen hatches her chicks, she keeps them nestled under her for heat and protection. The chicks can gather under the mother hen for warmth and then from time to time come out for water, a bite to eat or just to stretch.
As you can see in this photo, the chicks took right to the heating plate like they would a mother hen and have no problem dozing off for a quick nap!
You probably noticed that some of the chicks are actually touching the plate's surface. The chicks can fine tune their comfort level by contacting the surface, laying down, and moving from the middle to the edges.
The Comfort Heating Plate provides enough heat to keep the shavings underneath warm and inviting. When we set the brooder up before moving the chicks in, we tested the plate's surface temperature as well as the temperature of the shavings beneath with an infrared thermometer.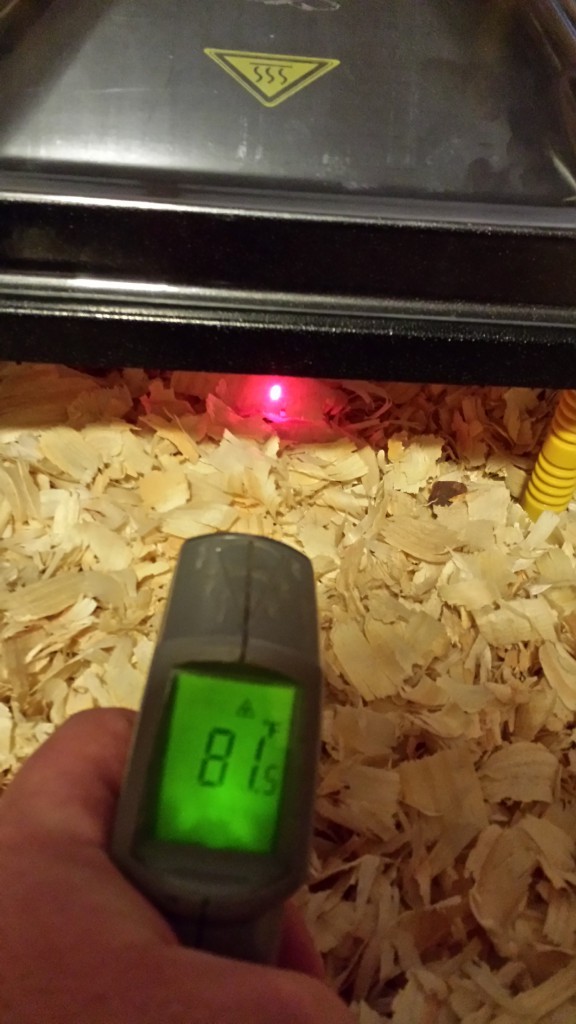 A perfect, consistent temperature for your birds, and peace of mind for you knowing that the Comfort Heating Plate for Chicks has dual safety features; a 0.5 Amp resistance fuse and 248°F temperature fuse.
If you're planning on raising your own chickens this year, already have some chicks, or just want to take advantage of the Comfort Heating Plate's safety features and energy savings, visit http://www.hogslat.com/comfort-heating-plate-for-chicks to purchase yours today!
Also, don't forget to check back weekly as we'll be documenting our experiences raising this flock as well as telling you more about the drinking bucket and hanging feeder you see in the pictures above!