Stohlquist Showpigs, located in Northeastern Illinois, is a leading supplier of pure and cross-bred animals to the show pig industry. Batch farrowing the 200-sow herd twice a year enables the farm to supply larger groups of pigs for auction and private sales. In addition to gilt and barrow sales, the farm sells semen and cross-bred boars along with farming 2,000 acres.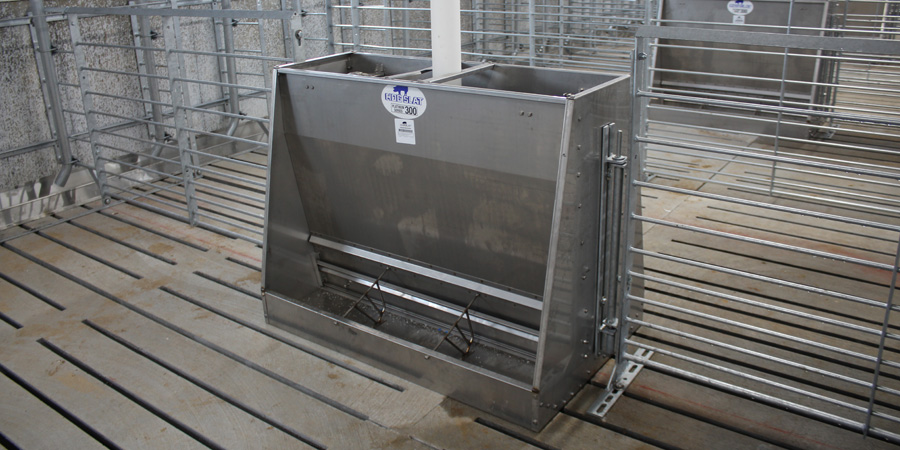 HyVis dividers separate trough without restricting the operator's view.

Pigs move into the 41' x 81' development barn at about 70 pounds, with each of the (23) 6' x 18'6" pens holding 16 barrows and gilts. A three-hole Magnum Wean/Finish feeder with HyVis dividers supplies ad-lib feed to the animals. Pigs are sold out down until three gilts remain in each pen. When the gilts reach a weight of around 280 pounds, the Magnum feeder is shut off, and feeding changes to the three stanchion stalls with stainless steel troughs located on the outside wall. Adjustable, volumetric Sow Drops regulate the amount dropped into each stanchion. The gilts remain in the pens as they reach breeding age.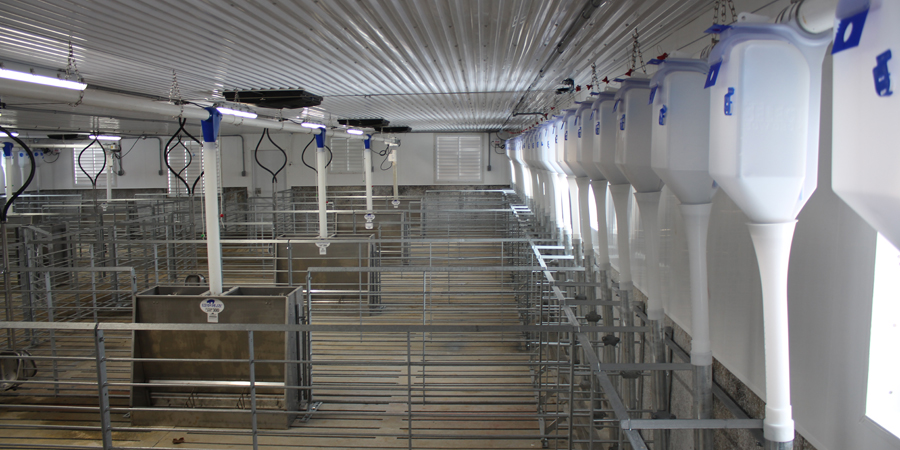 Stanchion stalls with Sow Drops provide automated limit feeding.
"When breeding starts, we drop feed twice to coordinate with our twice a day AI schedule," said Ryan. "After they eat, they are less restless, and that makes heat checking and breeding go smoother."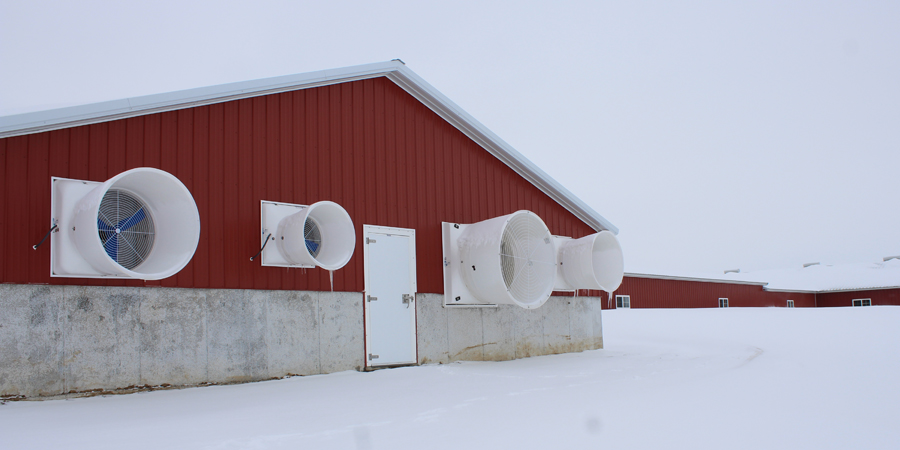 AirStorm exhaust fans located on the end wall.
14-inch and 18-inch AirStorm fans pull air from the ten-foot deep pit under the building with actuated ceiling inlets supplying incoming air. Additional AirStorm wall fans provide transition airflow until the building goes into tunnel ventilation with a cool cell system during the summer heat.
"Because we are dealing with such high-value females in this herd, we don't worry about utilizing space as much as a commercial herd might," Ryan explained, "We also may mix pig sizes in the barn at certain times to match our production flow. With slatted floors, we save on the labor and expense of bedding. We feel this barn will give our animals the best opportunity to perform up to their full potential."
Click on the links to learn more about Stohlquist Showpigs and Hog Slat.